Do Chips Contain Any Nutrients?
Despite the fact that chips are fried in vats of extremely hot oil, or fats, there are usually some nutrients & vitamins present even after the chips are fried. Per 100g of deep fat fried potatoes, there is 338mg of potassium, 8.4mg of vitamin C and 46mg of phosphorus on average. Naturally occurring vitamins and nutrients in the raw potatoes are not completely lost during the deep-frying process, some are retained.
What Chip Oils Are Good For Us?
Vegetable, canola, sunflower, and peanut oils are most common for frying chips. The third excellent option is grapeseed oil, which is as close to neutral as you can find.
Organic Rapeseed oil
If you want a light alternative to other cooking oils, rapeseed is a great choice and has experienced a surge in popularity since around 2008. It's produced from the bright yellow rape plant that grows freely in the UK in large fields. Best cold -pressed, the oil can then used drizzled as salad dressing, or heated to fry or bake. It's low in saturated fat, so has been hailed for its health benefits and also has other nutritional bonuses - it contains omegas 3, 6 and 9, which reduce cholesterol and help to maintain healthy joint, brain and heart functions. As it is high in mono-unsaturated fats, it is one of the only unblended oils that can be heated to a high frying temperature and not spoil its antioxidants, character, colour or flavour. Homegrown rapeseed oil has been heralded the 'British olive oil' but its flavour is more earthy and nutty than fruity.
Organic Maris Piper Seed Potatoes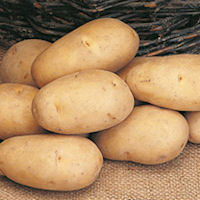 Maris Piper is a great maincrop potato to grow for the beginnner. It produces high yields of mild flavoured tubers, which are excellent for making chips, as we'll confirm.
Maris Piper is best grown on silty soils, but will do OK in most good, loamy soils.
We've been experimenting with different oils & potatoes this is our favourite. Look out for healthy cooked fries next season @atthelittlediner